Frequently Asked Questions,
Prices and Solutions
We love making loft beds and lofted spaces. Why? Your happiness is what we deliver. What you will be living with, every day of your life, going forward, is a new amount of space, energy flow, and breathing room in your space.
What do your loft beds cost?
We want to help everyone, so we have three level of pricing.
Let's find one that works for you:
+ STANDARD LEVEL, STARTING AT $2,299
Standard Level packages include a basic lofted bed, for a twin or full mattress, a free phone consultation, and a free sketch, with Sander Hicks, Zen's CEO. We will loft the bed, and give you a ships' ladder, a standard doug fir or pine railing, with everything finished, sanded and varnished with clear coat. Birch plywood, with varnished floor in loft.
For an extra cost, these are available at this level: paint, stain, a site visit, and a 3D rendering. (But if you are on a budget, a sketch will suit you fine.) We also offer discounts to students, veterans, seniors, activists, and indigenous peoples.
+ ZEN LEVEL $4,500 - $9,999
The added value here are gorgeous local hardwoods, in "American Black Walnut" or catalpa used for trim, steps, and railings.
These look great, either in "modern" style or with that wild and rustic "live edge."
Any size mattress lofted, plus a bit of extra space up in the loft is offered. Your custom measurements will be taken at our site visit. Cubby staircase, with or without doors, and cabinets/drawers available, price TBD.
+ COMPLEX LEVEL - STARTING AT $10K
For a larger lofted space, one that includes heavier construction, electrical work, flooring, painting, etc. then you need something with complexity.
Bigger "lofted spaces" price at around $80 per square foot. We are licensed contractors and can also add cabinetry, electrical, plumbing and other furniture elements to your project.


+ DO YOU DO FREE ESTIMATES?
We offer an in-home consultation for design and measurement and planning. You can either buy this in our Loft Bed Store, in advance, or just email us about the project first. We can price it over the phone and schedule a meeting. First meetings end with a 65% deposit for the finalized price of the job.
+ DO YOU TAKE PAYPAL?
Yes we take PayPal or credit cards, but we prefer a check to Zen Space Makers, Inc.
+ ARE YOU LICENSED AND INSURED?
Yes, we are licensed by the NYC DCA. We have General Liability Insurance. This is important, because often-times NYC buildings will not let us in without proof of valid insurance.
+ DO YOU DO OTHER WORK?
Yes, we do it all. Your loft bed can come with a desk, a closet, a bookcase, cubbies for storage, or a fireman's pole. We also have this great new site for Zen Carpentry contracting.
+ AFTER I PAY A DEPOSIT, CAN I CANCEL?
If a sale is done in-person, in your home, New York State consumer protection law gives the client three business days in which you can cancel, for a full refund. We follow this law, as licensed contractors.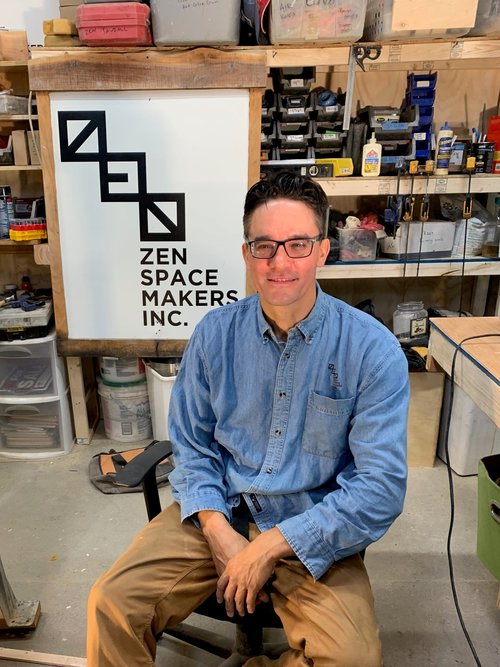 My name's Sander Hicks. I'm the lead designer, sales guy, and founder of Zen Space Makers, Inc. I can answer all your questions. And if I didn't answer your questions on this page, send me a note, through the Let's Build page, and I will get back to you within 24 hours.
And if you have sketches or measurements, or even a 3D rendering from an architect, that's great, send it to me.
-Sander